Business Development.
Our structured research, analysis, market planning and global network of expert resources help you understand new markets, define and exploit opportunities that grow your business, and capitalize on changing market conditions.
Kai-Zen Consulting provides business development services center around two key areas that serve U.S. and international businesses interested in growing their markets abroad and international businesses interested in entering the U.S. market:
International Business Development – We help businesses identify the markets best suited to expand operations and provide expert in-country resources to support a seamless launch.  Our proprietary research and analysis focuses on the United States, the Caribbean, Central & South America, Europe and Asia.

U.S. Business Expansion – We help companies efficiently navigate the challenges found of expanding business into the United States.  By covering all aspects of establishing your business in the U.S. – including legal, tax advisory, accounting, compliance, site selection, facility design and setup, technology infrastructure, employee recruitment, and payroll services – we guide your expansion every step of the way saving you time and money.
What we do.
Due diligence analysis
M&A targeting and management
International business facilitation
Cross-border business optimization
Business startup planning and growth
Competitive or product market analysis
International business expansion studies
Business expansion strategic development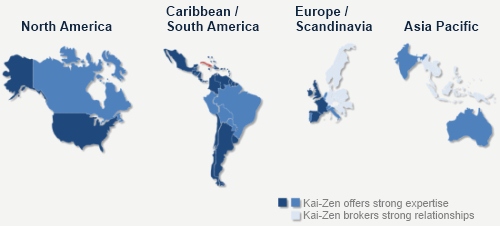 Kai-Zen is uniquely qualified.  Whether you are expanding a business or launching a new one, Kai-Zen Consulting offers a robust set of services and expert resources to help you build your business quickly and intelligently.  Our approach combines traditional activities and proprietary  techniques developed over time  through our own business and operating experiences.  We bring the highest ethical standards and integrity to our work.  If we do not believe the opportunity exists, we will not lead our customers down that path.
We create strategies that work.  Our dual approach offers the best business solution, while also contemplating the local or sociocultural aspects of the recommended actions.  This ensures that our plans are not merely theoretical in nature, but can be rolled out by our clients in a way that minimizes barriers to entry while maximizing your ROI.